HOW I WORK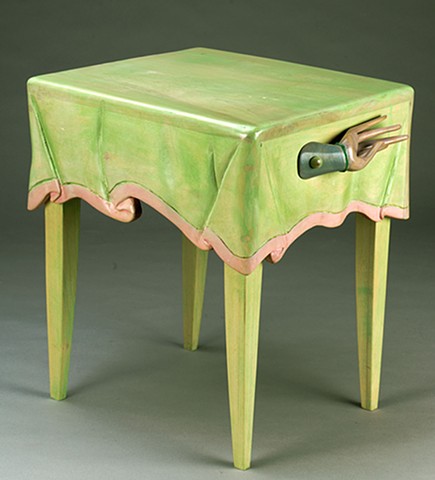 Example: PANDORA'S TABLE
Pandora's Table was put together with 1" poplar and is hollow inside. The sides were joined with a floating mortise and tenon. I added a human touch by adhering two expressive wooden hands I had found in an architectural salvage store.
I then assembled my artistic supplies, an array of wood carving tools and tubes of acrylic paint. I sketched out the lines where the drapery folds would fall on the table and started carving out the lines with the V-tool. I then switched to a chisel tool (gouge #8) to begin opening up the folds, using ever-smaller gouges and riffler files of various types to accomplish the desired curvature. The folds on the bottom were cut out using a jigsaw.
I applied acrylic paint in an extremely thin consistency, like that of watercolor, to allow the natural grain to show through. The piece was topped off with a coat of polyurethane.